From the 24th to 27h of March, the trade show of the
independent winegrowers
will happen in Paris (In espace Champeret).
At Wine Passport, we offer you very often to go in vineyards hold by independent winegrowers. That is why we will be in the trade show to meet new winemakers.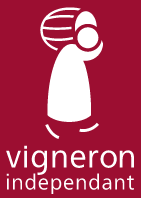 "Independent winegrowers" is a word we quite hear today, but what does it mean ? That is what I am going to explain !
The 3 big models of wine producers
In order to understand the economic world of wine, we have to understand that there are 3 types of wine producers.
- The wine merchants : They are companies which buy the grapes and the must (non fermented grape juice) in order to transform them into wine and to sell it under their names.

- The cooperatives : They are groups of winemakers (often from a same area) who produce and sell wines coming from the grapes of their members.


- The independent winegrowers : They are the one who cultivate their own grapes, make their own wines, and sell them without going through a cooperative or a wine merchant.
For Information : The economic model does not define the quality. There are big companies which make also very good wines.
A syndicate and a label
The independent winegrowers are a syndicate created in 1978 in France and which has for objectives to :
- Defend the job of winegrowers
- Help them in the Business development and in their communication (like for exemple with this kind of trade show)
In order to obtain the label and enter the syndicate, the winegrowers must respect different conditions :
• To respect their vines
• To work their vines
• To harvest their grapes
• To make and age their wines
• To make their brandy
• To bottle their wine in their own cellar
• To sell their products
• To respect the traditions
• To welcome, give advices and take pleasure to show their work.
To resume, the independent winegrowers are now a strong and famous collective brand in the wine World.
Wine Passport and the independent winegrowers
At Wine Passport we care about giving you the best in term of oenotourism. That is why we select our partners in the best way possible in order for you to have the best welcoming, places to go and wines. That is the reason why we like to work with independent winegrowers to make the best trip for you.
We will be in the trade show to improve our offer and to give you the best in term of oenotourism
- Winegrowers : If you want to show us you oenotouristic offer, do not hesitate to contact us if you want us to go to your stand.
- Wine lovers : You want to talk with us about oenotourism or about our offers ? Send us a mail and we would be able to meet !